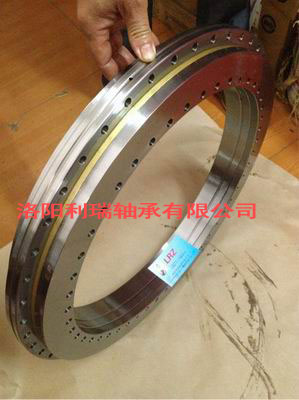 Turntable bearing YRT580
Luoyang Lirui Bearing Co., Ltd, located on the ancient capital city Luoyang which is the production base for bearing, is a new-high technology corporation with the integration of design,
Details
Description
Features: Axial/Radial Bearing YRT
YRT bearings consist of a Thrust/central ring, a Thrust/central shaft collar, a Thrust washer, two A needle roller cage assembly and a set of centripetal cylindrical rollers. The seat ring and collar have uniform mounting screw holes. This type of bearing has high axial and Radial load carrying capacity. High tilt stiffness and extremely high precision. Suitable for rotary tables, chucks and milling heads, as well as bearing configurations for measurement and experimentation. This type of bearing also has higher requirements for matching equipment parts. The tightening torque of the mounting screws must be controlled during installation.
Bearing Features:
1. High precision: Accuracy can reach P4 and P2 levels;
2. High rigidity: The bearings are preloaded ;
3, high load: can withstand axial load, Radial load, Overturn load.
4, high speed: YRTS series bearings can be used in high-speed work.
Scope of application: It is widely used in precision rotary table vertical grinding machines, indexing heads, gear hobbing machines, milling machine workpiece axes and other precision devices.
bearing code
Dimensions
Fixed holes
d
D
H
H1
C
D1
J
J1 Td>
inner circle
outer circle
quantity
Unit unit: mm
d1
d2
a
Quantity
d3
YRT50
50
126
30
20
10
105
63
116
5.6
9
4.2
10
5.6
12
YRT80
80
146
35
23.35
12
130
92
138
5.6
10
4.2
10
4.6
12
YRT100
100
185
38
25
12
160
112
170
5.6
10
5.4
16
5.6
15
YRT120
120
210
40
26
12
184
135
195
7
11
6.2
22
7
21
YRT150
150
240
40
26
12
214
165
225
7
11
6.2
34
7
33
YRT180
180
280
43
29
15
244
194
260
7
11
6.2
46
7
45
YRT200
200
300
45
30
15
274
215
285
7
11
6.2
46
7
45
YRT260
260
385
55
36.5
18
345
280
365
9.3
15
8.2
34
9.3
33
YRT325
325
450
60
40
20
415
342
430
9.3
15
8.2
34
9.3
33
YRT395
395
525
65
42.5
20
486
415
505
9.3
15
8.2
46
9.3
45
YRT460
460
600
70
46
22
560
482
580
10
15
8.2
46
10
45
YRT580
580
750
90
60
30
700
610
720
11.4
18
11
46
11.4
42
YRT650
650
870
122
78
34
800
680
830
14
20
13
46
14
42
YRT850
850
1095
124
80.5
37
1018
890
1055
18.5
26
17
57
18.5
54
YRT950
950
1200
132
86
40
1130
990
1160
18.5
26
17
57
18.5
54
YRT1030
1030
1300
145
92.5
40
1215
1075
1255
18.5
26
17
66
18.5
66
YRT1200
1200
1490
164
108
52
1410
1240
1445
18.5
26
17
66
18.5
66
Bearing Code
Dimensions
Axial Jump Dynamic Cr and Radial Jump Dynamic Cr
d
D
H Td>
H1
nominal size
offset
offset
nominal size
offset
offset
nominal size
nominal size
deviation Td>
YRT50
50
0
-0.008
126
0
-0.011
30
20
±0.125
2
YRT80
80
0
-0.009
146
0
-0.011
35
23.35
±0.15
3
YRT100
100
0
-0.01
185
0
-0.015
38
25
±0.175
3
YRT120
120
0
-0.01
210
0
-0.015
40
26
±0.175
3
YRT150
150
0
-0.013
240
0
-0.015
40
26
±0.175
3
YRT180
180
0
-0.013
280
0
-0.018
43
29
±0.175
4
YRT200
200
0
-0.015
300
0
-0.018
45
30
±0.175
4
YRT260
260
0
-0.018
385
0
-0.02
55
36.5
±0.2
6
YRT325
325
0
-0.023
450
0
-0.023
60
40
±0.2
6
YRT395
395
0
-0.023
525
0
-0.028
65
42.5
±0.2
6
YRT460
460
0
-0.023
600
0
-0.028
70
46
±0.225
6
YRT580
580
0
-0.025
750
0
-0.035
90
60
±0.25
10
YRT650
650
0
-0.038
870
0
-0.05
122
78
±0.25
10
YRT850
850
0
-0.05
1095
0
-0.063
124
80.5
±0.3
12
YRT950
950
0
-0.05
1200
0
-0.063
132
86
±0.3
12
YRT1030
1030
0
-0.072
1300
0
-0.08
145
92.5
±0.4
15
YRT1200
1200
0
-0.075
1490
0
-0.085
164
108
±0.3
15
Bearing Code
Number of Fixing Screws
Threaded access hole
Pitch
screw tightening torque
Basic load rating
Limit speed
bearing friction torque
axial
Radial
Dynamic Cr
Static Cor
Dynamic Cr
Static Cor
G
Quantity
Quantity
Nm
Ca
Coa
Cr
Coa
fat r/min
Nm
YRT50
2
-
-
12* 30°
8.5
38
158
28.5
49.5
440
2.5
YRT80
2
-
-
12* 30°
8.5
56
255
42.5
100
530
3
YRT100
2
M5
3
18* 20°
8.5
76.5
415
47.5
120
430
3
YRT120
2
M8
3
24* 15°
14
102
540
52
143
340
7
YRT150
2
M8
3
36* 10°
14
112
630
56
170
320
10
YRT180
2
M8
3
48* 7.5°
14
118
710
69.5
200
280
12
YRT200
2
M8
3
48* 7.5°
14
120
765
81.5
220
260
14
YRT260
2
M12
3
36* 10°
34
160
1060
93
290
200
20
YRT325
2
M12
3
36* 10°
34
275
1930
120
345
170
40
YRT395
2
M12
3
48* 7.5°
34
300
2280
186
655
140
55
YRT460
2
M12
3
48* 7.5°
34
355
2800
200
765
120
70
YRT580
2
M12
6
48* 7.5°
68
490
4250
228
965
80
140
YRT650
2
M12
6
48* 7.5°
116
1040
8000
490
1800
65
200
YRT850
3
M16
6
60* 6°
284
1000
8650
455
1730
50
300
YRT950
3
M16
6
60* 6°
284
1290
11400
530
2040
40
600
YRT1030
6
M16
6
72* 5°
284
1380
12000
620
2650
35
800
YRT1200
6
M16
6
72* 5°
300
1435
12850
745
2800
25
1000
Tags: